Traveling to another country where you are not familiar with the national language can sometimes lead to frustration and/or a poor experience. This handy guide, complete with everything a traveler needs to know while staying in Korea, will make your t rip more enjoyable, ease your communication woes, and gives you the knowledge to get around Korea with confidence!
This book is designed for those traveling to Korea who find themselves wanting or needing to speak Korean without taking an expensive language course, having to download an expensive computer program, or download hundreds upon hundreds of audio files.
Divided into sections by location and situation, Korean Phrasebook For Travelers covers nearly every situation which a traveler may encounter.
The romanizations in this particular book have been modified from the "official romanization" system to better suit English speakers.
Table Of Contents
Ⅰ. BASIC PHRASES

1. Greetings
2. Talking to a stranger
3. Shopping
4. Introducing yourself

Ⅱ. AT THE AIRPORT

1. Departures
2. Arrivals

Ⅲ. GETTING AROUND

1. Taking the subway
2. Taking a bus
3. On the street
4. Taking a taxi

Ⅳ. ACCOMMODATIONS

1. At a hotel
2. At a guesthouse

Ⅴ. EATING

1. At a typical Korean restaurant
2. At a Korean barbecue restaurant
3. At a Korean fast food restaurant
4. At a food court
5. At a family restaurant
6. At a buffet
7. At a bar/pub
8. At a cafe

Ⅵ. SHOPPING

1. At a clothing store
2. At a bag store
3. At an accessory/jewelry store
4. At a shoe store
5. At a cosmetics store
6. At a convenience store
7. At a big supermarket
8. At a traditional market
Ⅶ. FUN PLACES

1. At a palace
2. On a mountain
3. At a theme park
4. At a water park
5. At a ski resort

Ⅷ. FESTIVALS IN KOREA

Ⅸ. BUSY AREAS IN SEOUL

Ⅹ. VISITING A LOCAL CITY

1. At a bus terminal
2. At a train station

ⅩⅠ . EMERGENCIES

1. At a hospital/pharmacy
2. At a lost/found or police office

ⅩⅡ . MORE ABOUT KOREAN LANGUAGE

1. Quick guide to 한글 (Hangeul)
2. Numbers
3. Directions
4. Subway station names
---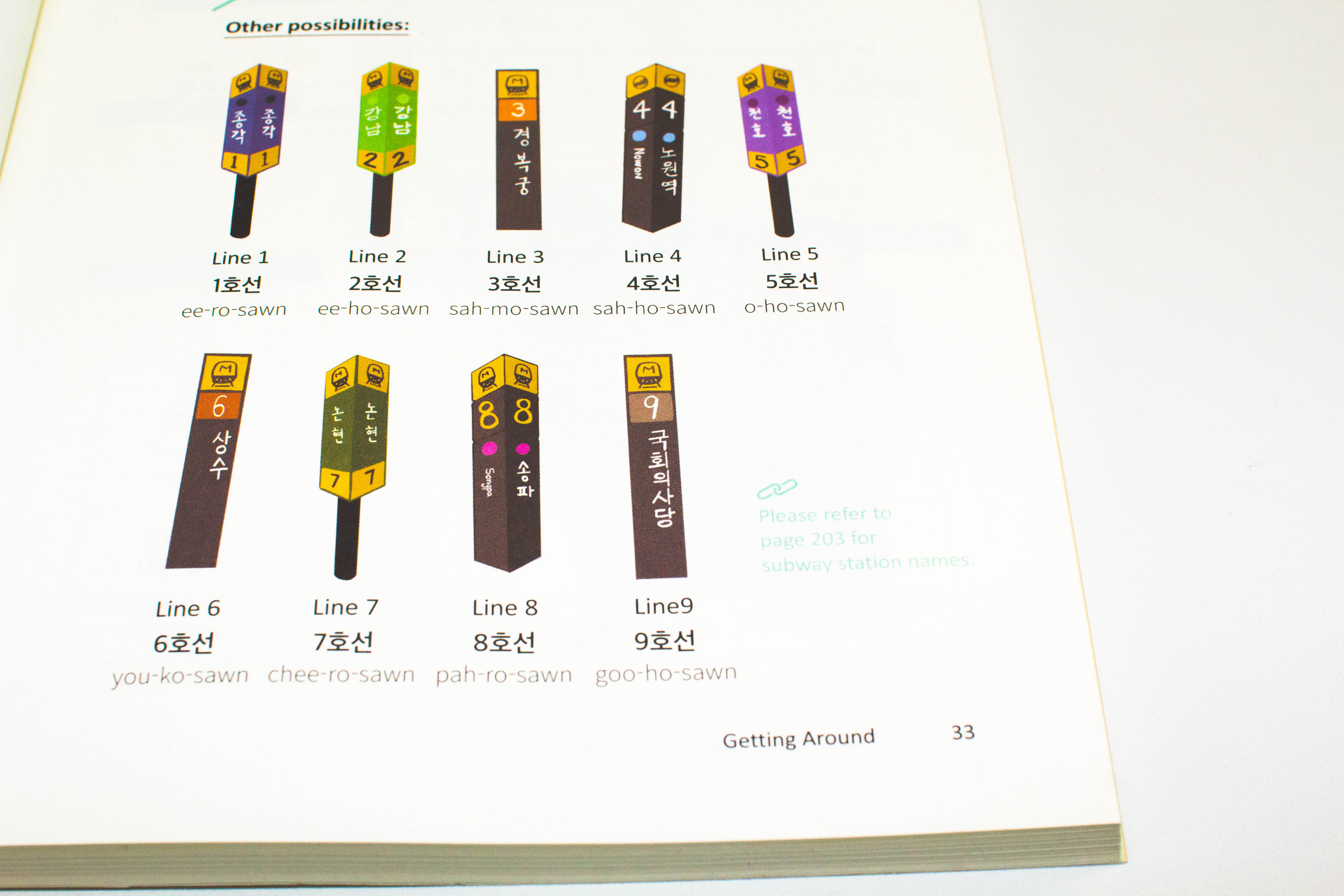 ---
Pages: 228 pages
Weight: 364g
---
Reviews by people who have purchased this book
Bret H.
Very comprehensive and helpful. And the graphic design and layout are very attractive.
Ruby H.
So Helpful! This phrasebook has everything you would need for a visit to Korea, it has some things in there I wouldn't have even thought to learn when planning to travel but would be very useful. Will be revising it inside out for my trip next year!
Elizabeth A.
This is a great book and has all the essential phrases needed for travelling around Korea. I also really like that it give some cultural tips and some general information about the different districts in Seoul. The complete list of subway lines is also really helpful!
* Any questions about our books? Check out our FAQ page!
* Please be sure to also read our return policy here.