Survival Korean Bundle (Hangeul + Survival + Traveler's Korean)
Product Details
Learn the most essential Korean for travelers and new expats who are about to start living in Korean through the 3 books in this bundle!
Tables of Contents
Hangeul Master – Learn how to read and write in Korean
Chapter II. Introduction to Hangeul
"Time-out #1" When Do Koreans Learn Hangeul?
Chapter III. Learn Hangeul
Unit I. Single Vowels (단모음)
Unit II. Consonants (자음) Part 1
Unit III. Consonants (자음) Part 2 (Aspirated Consonants)
Drills and Exercises (Unit I ~ Unit III)
Unit IV. Compound Vowels (이중모음) Part 1 – y+vowel
Unit V. Compound Vowels (이중모음) Part 2 – w+vowel and u+i
Drills and Exercises (Unit IV ~ Unit V)
Unit VI. Bat-chim (받침, Final Consonants)
Unit VII. Double Consonants (쌍자음)
Unit VIII. Compound Consonants as Bat-chim (겹받침)
Unit IX. Linking Sounds in Korean
Drills and Exercises (Unit VI ~ Unit IX)
Final Test
"Time-out #2" You Know More Korean Than You Think
Chapter IV. Hangeul Handwriting
Unit I. Korean Handwriting Tips
"Time-out #3" Abbreviations in Korean Slang
Unit II. Practice Your Handwriting
"Time-out #4" Shortening Sentences Without Sacrificing Meaning
Unit III. Korean Handwriting Quiz
"Time-out #5" Chinese Characters in the Korean Language
Answers
Survival Korean
How To Use This Book
Introduction to 한글 (Hangeul)
#1 Food
Common Phrases: Restaurant & Cafe
Restaurant
Cafe
Food Delivery
#2 Transportation
Common Phrases: Bus & Subway
Bus
Subway
Taxi
Asking and Giving Directions
#3 Shopping
Fashion
Grocery Shopping
Internet Shopping
#4 Daily Life
Hair Salon
Tickets
Banking
Mobile Phone
Package Delivery
Dating & Marriage
#5 Health
Common Phrases: Hospital & Pharmacy
Hospital
Pharmacy
#6 Career
Common Phrases: School, Hagwon, & Business
Common Phrases: School & Hagwon
Business
Korean Phrasebook For Travelers
Ⅰ. BASIC PHRASES
1. Greetings
2. Talking to a stranger
3. Shopping
4. Introducing yourselfⅡ. AT THE AIRPORT
1. Departures
2. Arrivals
Ⅲ. GETTING AROUND
1. Taking the subway
2. Taking a bus
3. On the street
4. Taking a taxi
Ⅳ. ACCOMMODATIONS
1. At a hotel
2. At a guesthouse
Ⅴ. EATING
1. At a typical Korean restaurant
2. At a Korean barbecue restaurant
3. At a Korean fast food restaurant
4. At a food court
5. At a family restaurant
6. At a buffet
7. At a bar/pub
8. At a cafe
Ⅵ. SHOPPING
1. At a clothing store
2. At a bag store
3. At an accessory/jewelry store
4. At a shoe store
5. At a cosmetics store
6. At a convenience store
7. At a big supermarket
8. At a traditional market
Ⅶ. FUN PLACES
1. At a palace
2. On a mountain
3. At a theme park
4. At a water park
5. At a ski resort
Ⅷ. FESTIVALS IN KOREA
Ⅸ. BUSY AREAS IN SEOUL
Ⅹ. VISITING A LOCAL CITY
1. At a bus terminal
2. At a train station
ⅩⅠ . EMERGENCIES
1. At a hospital/pharmacy
2. At a lost/found or police office
ⅩⅡ . MORE ABOUT KOREAN LANGUAGE
1. Quick guide to 한글 (Hangeul)
2. Numbers
3. Directions
4. Subway station names
Swipe to view more images of the book!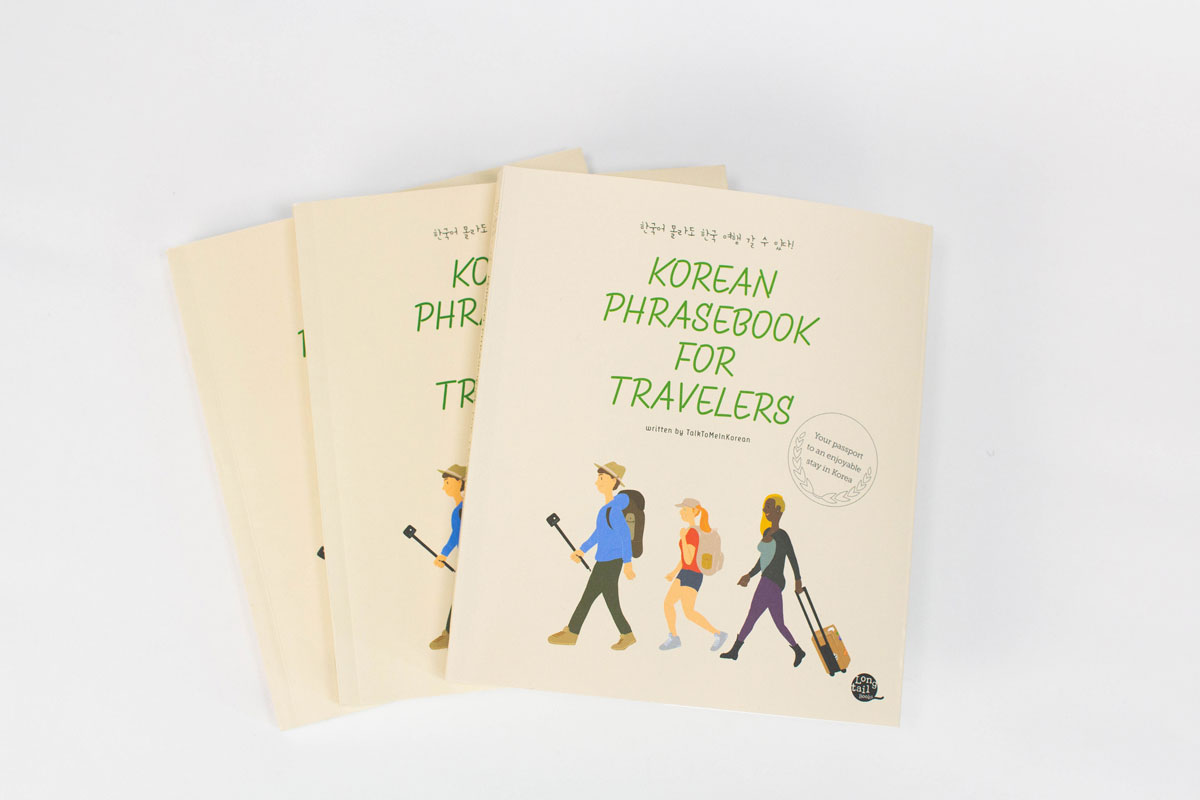 Reviews by people who have purchased this book

Monika V.
The easiest way to learn 한글. After reading this book – You will not need any other book or lesson to understand the Korean writing system! It has everything – pronunciation guidelines – handwriting lessons and so much more! I love it!
Nicolas J.
Essential for expats and travelers! This book will teach you everything you need to know in order to interact with businesses and services in Korea on a daily basis. It also contains a lot of useful cultural information and tips. Another great title from TTMIK! 🙂
Ruby H.
So Helpful! This phrasebook has everything you would need for a visit to Korea, it has some things in there I wouldn't have even thought to learn when planning to travel but would be very useful. Will be revising it inside out for my trip next year!
Natalia
It's probably the most usefull book for trip to Korea. There are a lot of great information how to survival in Korea. Thank you!


Specification of this book
Hangeul Master – Learn how to read and write in Korean
Newbie
Paper Book: 158 pages
Product Dimensions: 256 * 188 * 10 mm
Shipping Weight: 397g
Survival Korean
Newbie – Level 7
Paper Book: 277 pages
Product Dimensions: 149 * 210 * 15 mm
Shipping Weight: 419g
Korean Phrasebook For Travelers
Newbie – Level 3
Paper Book: 228 pages
Product Dimensions: 153 * 175 * 14 mm
Shipping Weight: 364g
Total Shipping Weight: 1115g
---
Swipe to view related resources!